Testimonials
"I purchased a 9 ft Baldwin concert grand from Mike in May. Maybe I took a risk as I didn't ask for an independent piano technician to inspect and evaluate the instrument. As it turned out---it would have been a waste of time--fortunately. I did call the technician that had serviced the piano and he supported everything that Mike had told me. When the piano arrived, I found it to be just as Mike had described. We did have several interchanges on the phone. All the pictures were accurate. I was concerned about it being refinished although I did want a cosmetically superior appearance. It was advertised as in 'mint' condition and that is the way it arrived. I was very pleased. In talking with Mike on the phone, I became comfortable that he had an excellent condition piano---and I wanted it! My wife knew nothing about the piano until she 'found' it in the house. She is really picky on furniture condition items and agreed it was super nice---as described. The shipping rails had been removed which I strongly preferred but wondered about the holes that had to be filled and refinished. Even with 'highlighting the side' I have not been able to detect anything in that area. My opinion that Mike knew how to do things 'right' was confirmed. It took me a 'while' to justify the cost and he was patient with all my questions--and more questions. He's a great guy to work with. If you are serious about buying a piano from him, I would be glad to talk with you on the phone. However, you will only get a very succinct text [message] out of me."
"Additionally, I used Pro Piano Movers in Houston, TX. They were not the cheapest but I had strong reservations about several other big piano movers. They couldn't have been better to work with. The super strong selling point for me was that the same two guys picked up the piano and delivered it--in an air ride truck, with the storage area air conditioned. In 30 minutes after arrival, the piano was set up--and they were gone. I would never consider any other instrument mover at this point. The piano didn't go through multiple hands, multiple trucks, multiple locations---all very important to me. If you buy a piano from Mike, I trust you will be as pleased as I was."
- Dr. C.B. in San Antonio, TX

1986 Baldwin SD-10 9' Grand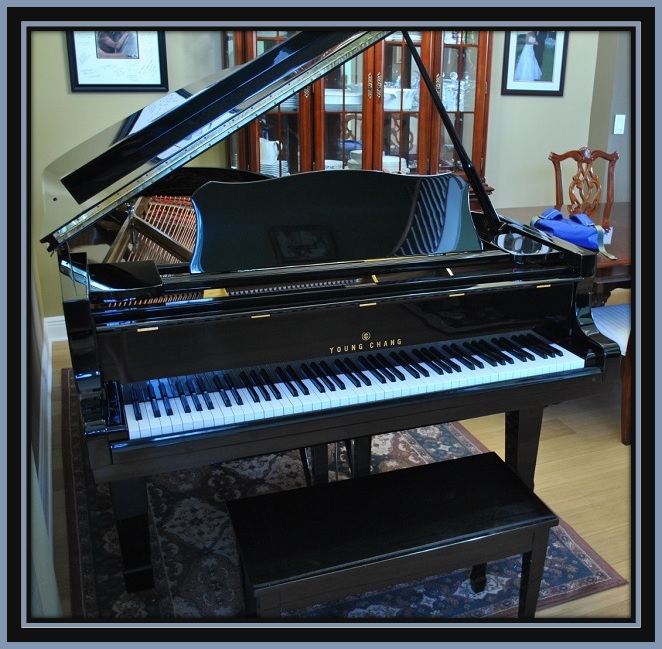 "I just bought a 1985 Young Chang 7' medium concert grand piano from Mike and I am thrilled to report that the piano is even more glorious than he described or his videos were able to convey. The piano is in impeccable shape and was verified the day after I received it when I had a certified technician come and evaluate it. I was specifically looking for a piano with a mellower sound but a rich tone and firmer action. In talking with Mike after I saw the pictures and videos he provided, I was able to confirm that this piano had everything I wanted. The piano needed to be in beautiful condition for the space it would occupy as it serves as sculpture in the "room with a view" that it occupies. Mike was very patient to give me time to thoroughly review everything with him, to speak with the technician who performed all of the maintenance on the piano while he owned and played it and to feel comfortable with the transaction. I found Mike to be a man of integrity with a passion for pianos and a warm and terrific guy to work with. I can recommend him without hesitation and I can sum up my feelings about my purchase like this: "My life has changed for the better since the piano was placed in my home and in a way I know will be lasting, I just couldn't be happier."
"As to the moving experience, Mike handled everything for me and followed up weekly with the carrier. Mike allowed me the opportunity to agree to the arrangements he made. His usual carrier was no longer including FL in his route so the company we used was new to him. I was able to talk directly with them since my piano was going upstairs and I had a deadline to receive the piano before a planned event. Through no fault of Mike's, the national carrier was not able to keep the piano on track for my timetable and it arrived five days too late for my event after sitting in Indianapolis for nearly a month waiting to be brought to Denver. Once it finally left Indianapolis, the piano arrived in a matter of days and the local piano movers brought it to me over night as we had been in contact over the delay. All in all it wasn't the end of the world and Mike was so professional in trying to keep things moving forward. My purchase with it's time frame tied to a specific event is probably rare but be aware that pianos make their way across the country slowly and allow at least 6-8 weeks for its arrival."
- Ms. N.M. in Monument, CO

1985 Young Chang 7' Grand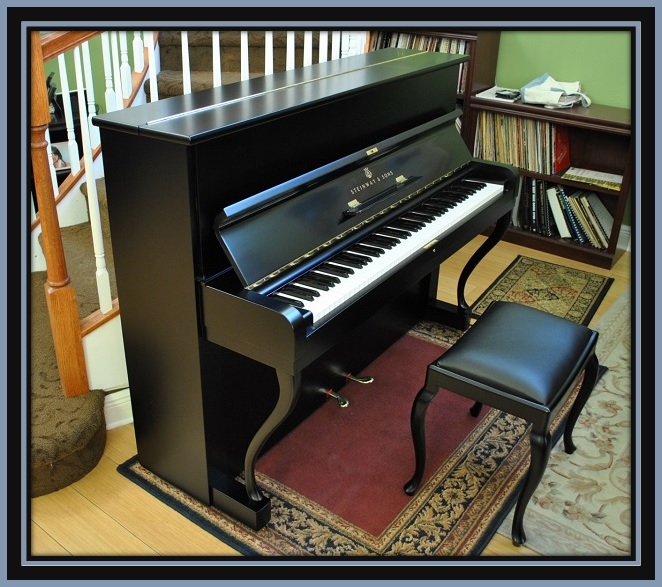 "I was blessed to stumble upon Mike's piano listing by chance on eBay. I had been looking for a piano for my family to learn on for about three years and had been in close contact with a local dealer in case something came up for sale. My heart was set on Steinway because it's what my grandmother loves to play and what my sister learned on as a child. I was hoping to find a piano with ivory keys, with the character of the "old world", but with a long life-span ahead of it. When I saw mike's 1956 Hamburg model z in mint condition and heard his friend play it on u tube, we all fell in love. Mike is a family man--a husband and a father with a genuine passion for music. He is a consummate professional and a man of integrity. While negotiating, he gave me a very honest opinion of other pianos I was looking at and even told me that one of the instruments would be a good starter piano for my children. He is not interested in simply making a sale, he truly strives to match each instrument with the best home."
"As for shipping, Mike recommended a vendor and I chose Walters which was a mistake on my part. My piano arrived with a broken panel spring but Mike immediately sent me a replacement part and since it simply holds the knee board in place it was an easy fix. He even offered to cover the repair cost which was above what he was contractually obliged to. Thankfully my tuner in Houston was able to make the swift repair and confirmed everything the inspection did in Tampa. My instrument is in incredible condition and sounds beautiful."
"Mike sold me exactly what he promised, he kept me up to date weekly on shipping, and was honest and informative throughout the process. He even wrapped the piano in his personal blankets to protect the finish. He answers calls and emails even when he is on holiday with his family. I plan on keeping my upright so I can pass it down to one of my grandchildren one day, but since I have two children, I will need another piano. Mike will be the first person I contact when we are ready for a grand! Thanks for bringing the joy of music into our home Mike!"
- Ms. E.C. in Houston, TX

1956 Steinway Z Upright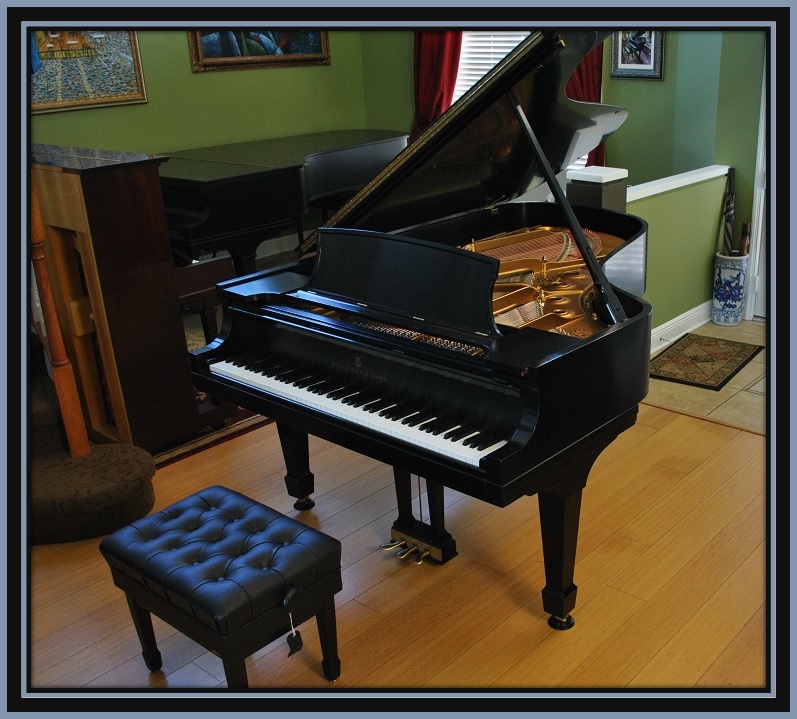 "Hello piano buyers! My name is James English from northeastern Pennsylvania. I am 68 years old and decided at this time of my life to purchase the one and only piano of my dreams for more than 50 years: a Steinway model "B" grand. More than 10 months ago, I began searching eagerly, locally and statewide, for the one I exactly wanted."
"In the middle of my search, I came across Picarzo Pianos and my undivided attention froze on the 1962 Steinway B that Mike was selling nationally. I continued searching, only to constantly return back to Mike's '62 B. That's when I decided to contact Mike to begin making an offer, and eventually come to a most satisfying sales agreement that could not be beaten without a doubt. Mike and I not only became customer/salesman, but within a very short time became very good friends over the entire time it took from start to finish to conclude our transaction."
"Mike is the most patient salesperson on this planet. I had, and traded up from, a K. Kawai KG-6E, which I purchased new in 1987, to the Steinway B that Mike had for sale. My finances to purchase the Steinway were not available at first for at least 3 and 1/2 months, in which Mike, who had the faith and integrity to promise me he would hold the piano until my finances became possible, did just that!"
"In all my years of dealing with salesmen, I can very honestly say that Mike was the best I have ever dealt with. I must say to all piano buyers, first shop with Picarzo Pianos before anywhere else. Take it from me, you won't be disappointed by any means. Mike extends his patience and kindness above and beyond the norm. The bottom line is clear, as my testimony proclaims: I will never shop anywhere else, if the opportunity permits to purchase again from Mike Pratt."
"I highly recommend his showroom and service to all music lovers wherever you live. Thank you for reading about my recent experience with Picarzo Pianos."
- Mr. J.E. in West Wyoming, PA

1962 Steinway B Grand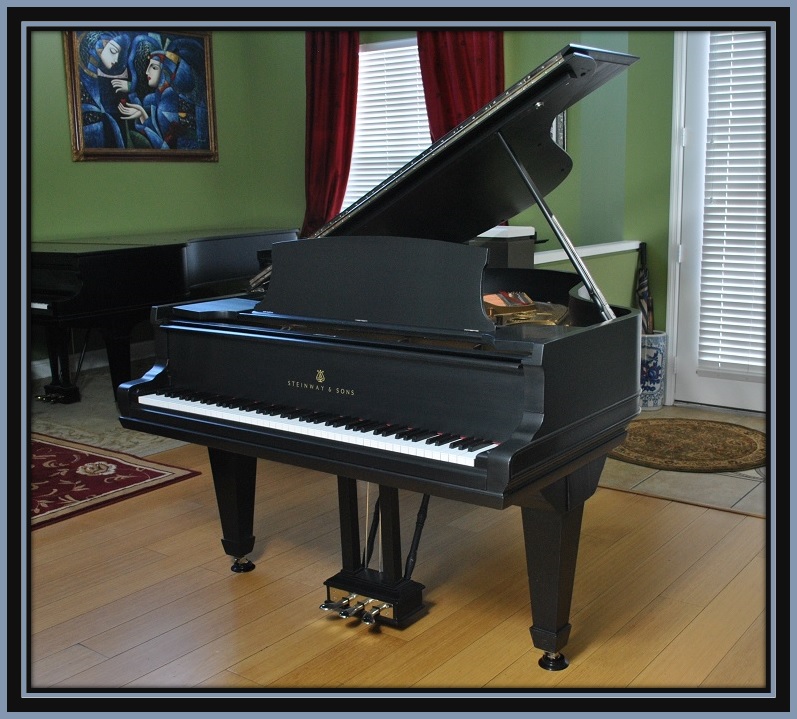 "We were looking for a Steinway for our family room, part furniture, part piano, as my wife used play when she was young and our kids are musically oriented. Me, not so much, but I do appreciate antiques, and so I set out to find one that would be a good fit for our home. I visited Steinway Dallas and looked at both new and used pianos and got a feel for the size I wanted, then I started looking on the internet."
"That's when I found Picarzo Pianos. I was immediately impressed by the detail and attention apparent from the website alone. I looked through the different pianos for sale and found two that matched my goals and for about half the price of Steinway Dallas. On the Picarzo website, the detailed descriptions, photos, and video of the pianos being played were impressive. I then followed up with a call and Mike Pratt, the owner, answered. We talked about the pianos and options over a series of calls and emails and we decided to make the purchase. The piano arrived two days before Christmas (two weeks before we expected it), delivered by a professional piano mover (who had a lots of good advice about caring for it), and has exceeded every expectation. It is beautiful, inside and out. It is the focal point of our room and gets played regularly by our family and visitors."
"We just could not be happier, and I highly recommend Picarzo to anyone interested in a high quality classic piano. The knowledge, service and care are unsurpassed whether you live in Tampa or Dallas."
- Mr. C.C. in Dallas, TX

1895 Steinway Model A 6'0" Grand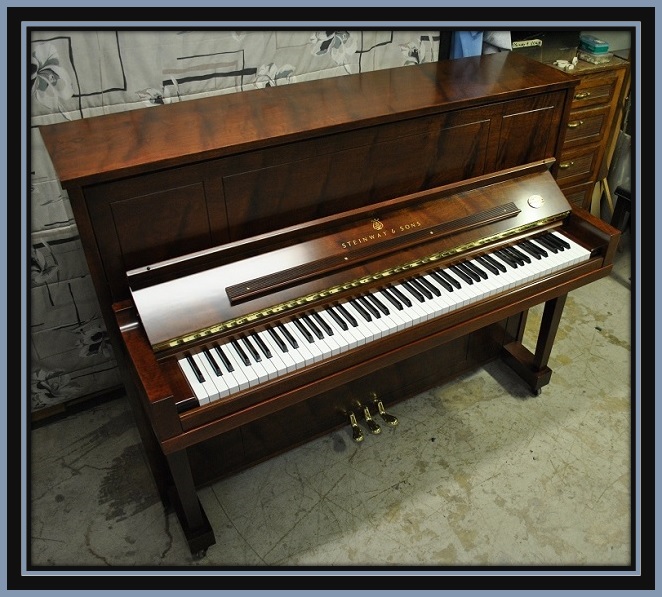 "I recently purchased a 2001 Steinway 1098 upright piano from the Steinway Crown Jewel collection from Mike. I was looking for a stellar piano for my son's birthday - flawless finish, stellar action, limited use - and became very interested in this piano that Mike was selling. One of the things I was looking for was a quick, easy, no-hassle transaction, i.e., I wanted to select a piano for my son, pay for it, and have it arrive at his place with little to no effort on my part. Mike made the entire transaction very easy and quick for me. I contacted him through email at 10am in the morning, and 2 hours and 12 emails later, we had an executed purchase/sale agreement and I had ordered the wire transfer for the full amount to Mike."
"Mike offered to arrange all the moving and recommended a technician to come and inspect, but having visited his website, and read testimonials from previous customers, I trusted his judgment and we closed the transaction quickly. I did ask for a two week delivery from Tampa to California to reach my son in time for his birthday, but Mike told me upfront that it would take four to six weeks for national delivery. Mike proactively gave me frequent updates on the cross country move, and the piano was delivered to my son in six weeks. My son is very happy with his new piano, and I am glad I chose to purchase from Mike. I can recommend him as a seller if you are in the market for a quality piano."
- Mr. M.T. in Needham, MA

2001 Steinway 1098 Upright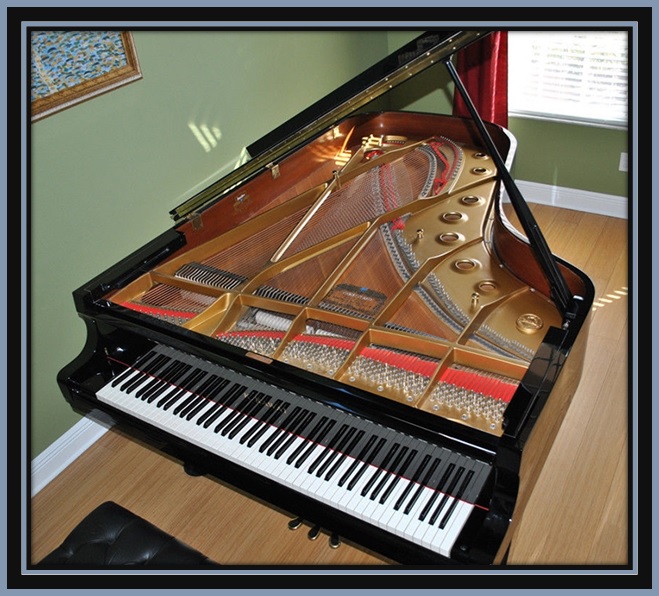 "I recently purchased a 7-foot Kawai semi-concert grand piano from Mike in October. I wanted to share my experience with those who may be on the fence with making such a large purchase over the Internet with a small dealer. I initially found the piano on ebay. It was exactly what I was looking for and at an even better price point than I expected, so I wanted to act quickly. I followed the links on ebay to the Picarzo Pianos website and contacted Mike. He was very helpful in answering my questions and gave me the name of an independent registered piano technician I could speak with for an unbiased report on the condition of the piano. I must admit that I was uncomfortable sending such a large sum of money to someone I had never met for an instrument I had never seen, so I made the call. Fortuitously, the technician had been to service another one of Mike's instruments that day and Mike had had him look at the Kawai in anticipation of my call so he was ready for me. The technician assured me that the instrument was in excellent shape and one of Mike's favorites to play."
"When I was ready to purchase, Mike worked with me to accept a PayPal payment for my own security even though it cost us both a bit more to cover the transaction fee which was still slightly less than the list price so that was fine with me. I live in Idaho so I was pleased to see that Mike was more than happy to pay the extra costs to get the instrument all the way to my residence above what he collects for shipping on his site. Mike also FedEx'd me a set of caster cups which couldn't be sent with the piano and followed up weekly during the shipping process. The instrument arrived in excellent shape and exactly as described. I waited a week for it to acclimate to the new climate before having it tuned. I couldn't be more pleased with the instrument or with Mike's professionalism in this sale."
- Mr. C.P. in Idaho Falls, ID

1997 Kawai RX-6 7' Grand
"We had a great experience purchasing a 1966 Baldwin Concert Grand model SD-6 from Mike at Picarzo Pianos. I was looking for a large grand piano with a concert-regulated action. The instrument we purchased was in fantastic condition after its recent restoration (complete action, strings, hammers, pinblock, soundboard rebuilt/refinished, plate regilding and total case refinishing) Mike's choice of Arledge bass strings and Renner Blue Point Hammers for the restoration were particularly to my taste. The Arledge bass strings have that nice big-piano growl and the hammers easily produce a wide variety of tone colors: nice and dark with a gentle touch, yet the brightness and power is easy to call forth when you need it. I had previously considered two other instruments of this same make and vintage, but this one was in a league of its own in touch, control and power. I did give consideration and thought to such a large purchase such as this for a couple of weeks, and then decided this was the piano for me."
"We felt very comfortable working with Mike and never felt pressured to do anything or be in a hurry to make a decision. I would say that he exemplifies the definition of no pressure sales. Mike made the financial part pretty much painless. He let me know exactly when the bank wire reached his account and verified it was received. I then engaged my RPT (50+ years experience including tuning for concert artists and university-level work) to travel 800 miles round trip and inspect/pick up my new piano for me. I had played this instrument for about 2 hours and was very comfortable with it but I did want an expert opinion on any issues that may not have been obvious to me. This technician has done many complete hands-on restorations himself on large grand pianos and knows exactly what to look for. He inspected the piano and let me know by phone he was truly impressed with the instrument, so I gave the go-ahead to 'bring her home'. After 4 months, 2 in-home concerts and 3 tunings the piano has really settled in and is a joy to play."
"I would not hesitate to recommend Picarzo Pianos. Mike is a class act and was a pleasure to work with in finding my dream piano."
- Mr. P.D. in Southport, FL

1966 Baldwin 9' Concert Grand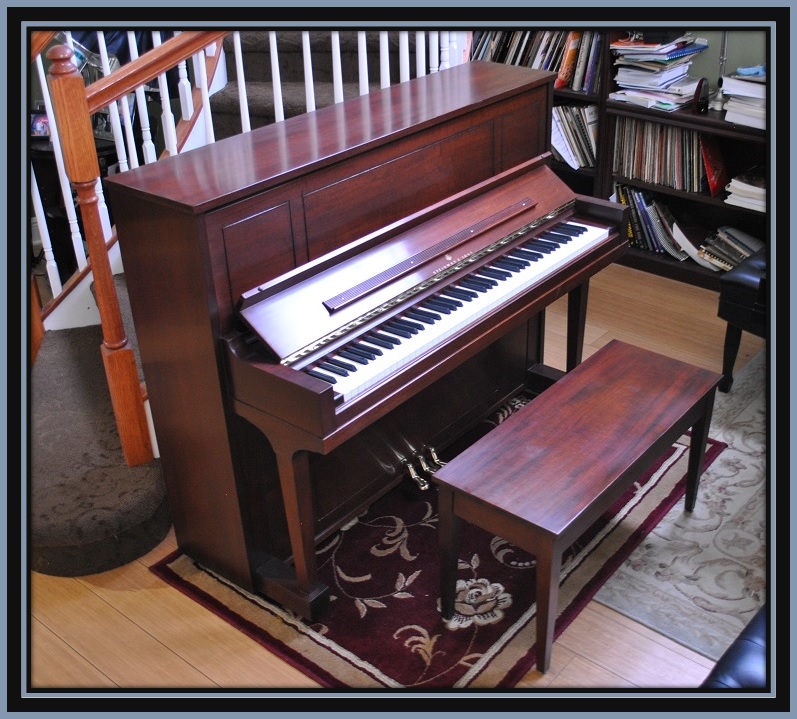 "If you're thinking about acquiring a quality piano, I have a suggestion. Do not make a move without seeing Picarzo Pianos and owner Mike Pratt in particular. We found working with Mike to be a true joy when we recently purchased a Steinway from him. He delivered when he said he would deliver and subsequently the piano was tuned when he said it would be tuned. The man will help you and give suggestions when appropriate, but never put any pressure on you to buy."
"We began at his store on a Saturday with the idea in mind to have a look at a mahogany Steinway model 1098 that we had seen on his website. The one we saw was out for refinishing and wouldn't be available for some weeks. He had no other of that model in the store, but said that he had one at his home which he invited us to see, and he would sell it if we liked it. We met him later at his home and immediately fell in love with that lovely piano -- exactly what we wanted. We said, "SOLD" and he drew up a contract which we signed and delivered a check to him the next day (Sunday). The piano was delivered promptly on Wednesday and now happily graces our little music room. We are happy, indeed."
"May I repeat? Do not pass up the opportunity to consult with Mike if you have any inkling to buy a piano. You will find him knowledgeable, friendly, and very willing to help you with your choice. Besides, he's a neat guy and fun to work with. Go - do it!"
- Mr. R.S. in Land O Lakes, FL

1990 Steinway 1098 Upright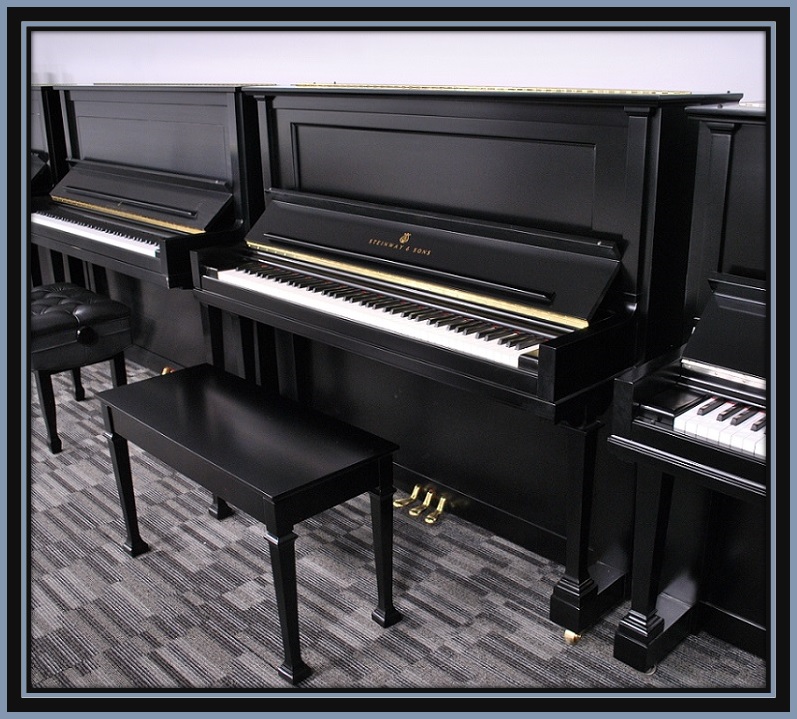 "I started my search for a Steinway K52 and found Picarzo Pianos online through a Google search. From the first email Mike couldn't have been more helpful. He was extremely knowledgeable about his products and you can feel his passion and pride in what he does. He was quick to answer my questions and concerns about shipping it to the Bahamas. Mike suggested I fly over to play the pianos first, but that wasn't feasible, so he suggested I should have the piano inspected by a technician, confirming to me his confidence in the quality of his pianos. He made me feel so comfortable that I had no problem purchasing my piano sight unseen."
"Payment was seamless and Mike oversaw every phase of the shipment even after it left his showroom. The piano was trucked from Tampa to Miami, then shipped to the Bahamas where it arrived in one piece without a blemish!! The piano was so securely crated and wrapped that my local movers were amazed."
"What a wonderful piano and a great experience working with Mike. Thanks Mike!"
- Mr. P.D. in Nassau, Bahamas

1983 Steinway K Upright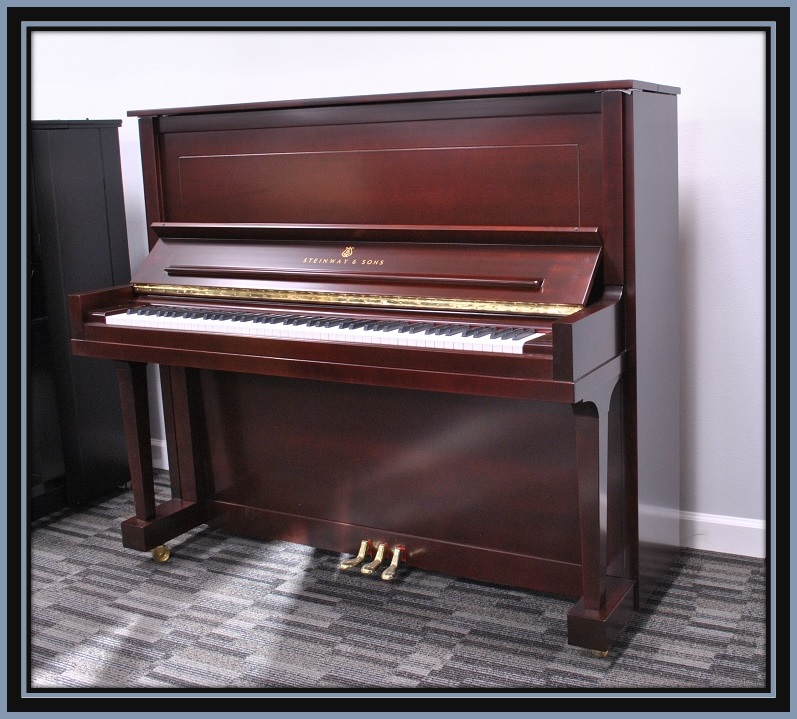 "I recently purchased a Steinway Model K from Picarzo Pianos, and I could not be happier with my piano and the entire buying experience. I had not considered buying a piano online before, especially from a place 1000 miles away, but all of the information on the Picarzo website (which I found to be 100% accurate as I went through the process) gave me the confidence that this was a reputable company and that I would be getting a high quality product that would be difficult to find elsewhere. I was not disappointed."
"I found the owner, Mike, to be very helpful and informative. He answered all of my questions and there was never any sales pressure. Seeing and hearing video of the piano, as well as getting a report from a professional technician (which was very easy to arrange) was all I needed to confirm that this was the piano for me. I knew nothing about wire transfers or piano moving, but Mike clearly walked me through every step and kept in regular communication throughout the process. My piano was delivered about 6 weeks later by professional movers and arrived without a scratch and sounding great. It really was a smooth process all the way through."
"I would highly recommend doing business with Picarzo if you are looking for a great piano."
- Mr. C.C. in Midland, MI

1996 Steinway K Upright
"I was looking for a quality upright piano. I had looked at multiple locations in the San Francisco Bay Area and did not find anything. Problems with inventory, pushy salesmen, and cost were all issues at local piano dealers. None of these were an issue at Picarzo Pianos."
"Picarzo Pianos had an excellent inventory of Steinway uprights - all in top notch condition and at great prices. Michael was amazing to deal with, and really made the whole process incredibly easy. As I did not have time to fly out to Tampa, I had a local piano technician check out several pianos (all of which received rave reviews). And based on his feedback, I purchased a 2001 Steinway K52, which Michael promptly shipped to me. The piano was very well protected during the move and showed up in perfect condition."
"I encourage anyone looking for a piano to seriously consider Picarzo Pianos. When I have room, I plan on upgrading to a grand - and Picarzo Pianos will get my business."
- Mr. C.C. in Tiburon, CA

2001 Steinway K Upright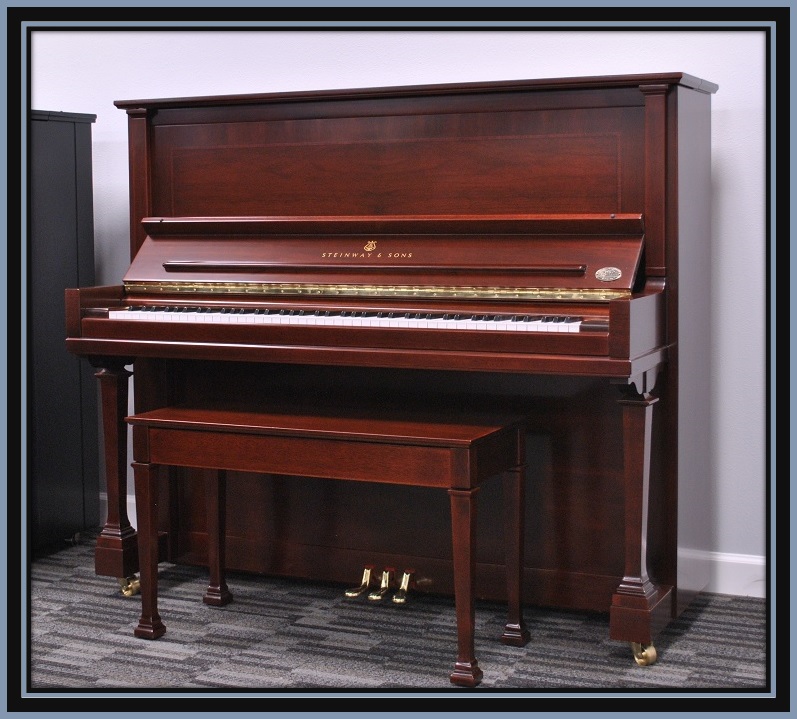 "Mike really went above and beyond in getting me a wonderful piano. I had been looking for a nice piano for several months but had been a bit disappointed with local selection and all the middle tier quality pianos. My wife and I both play well and we wanted something with a higher quality feel and sound, but we couldn't find a piano we were completely happy with, which caused us to start looking online. I found a beautiful used Steinway piano that Mike had just refinished, and it seemed to be just the right kind of piano we had been looking for, although I was still quite hesitant because I am rather picky about sound and touch and I had many reservations about any online purchase. I considered flying down to take a look at the piano myself, but Mike was so knowledgeable and helpful that he was able to answer many dozens of questions through dozens of emails to the point that I felt reassured that I had all the information I needed. Mike also arranged for an independent piano technician to take a look at the piano, including the condition of the action and keys and everything else, which just further showed that this piano was in great condition and was the ideal choice for me. Mike also gave a good price for such a nice piano (I know because I looked at a lot of pianos that cost almost as much yet were not nearly as good!). Since I had not made such a large online purchase before, I was still a bit nervous to send such a large amount of money, but Mike made every step of the process comfortable and he was always very responsive to any questions I had."
"Mike very carefully wrapped and packaged the piano for moving, and when the piano arrived a few weeks later, the local movers (to whom the piano had been transferred by the national carrier) had prematurely removed his padding and wrapping, which resulted in a scratch on the leg of the piano and some minor damage to one of the pedals. I was a bit panicked at first, but Mike immediately jumped on the issue, getting a professional repairman to come by that week who made everything look as good as new, as well as a piano technician who made sure everything was tuned and in good working order."
"In the end, the piano is strikingly beautiful and has a wonderful feel and all the high-quality sound I was hoping for-- looking back I'm not sure how I ever would have been so satisfied with a piano if it weren't for Mike. I was extremely impressed with his helpfulness and attentiveness through the whole process and would certainly recommend him to anyone looking for high quality pianos."
- Mr. R.M. in Orem, UT

2000 Steinway K Upright
"I am a student on an F1 visa to the U.S. who has recently graduated and worked for a couple years under OPT status. I plan to return to China soon. Although I am not music major, I love piano, and have been playing piano since I was 5. I know piano well, and my mother can even tune piano by herself. I decided I would like to buy a good piano before I go back to China. I have been looking for a good upright Steinway for a while. I had already searched pianos in nearby stores, but no one is really good. I began to search on eBay."
"Before I contacted Mike at Picarzo Pianos, I also contacted many private piano owners and other piano shops. Well, Mike at Picarzo Pianos responded to my questions so FAST!! I am glad about that. I have been asking other piano sellers to at least put some video recording of their piano on YouTube, but nobody actually did it. The best one gave me some sound tracks, and also some good suggestions, but Picarzo Pianos put very good video recordings online for me to see and listen to. The piano description, notes and pictures were most detailed and professional. The email responses were also most quick and professional. Every email gave me good suggestions. So that even without trying the piano, I believe the piano is good. Picarzo Pianos won my confidence by detailed and professional information, video, and good communications. Their website is also professional. The moving process is also quick and professional. They wrapped the piano really nice, and checked the moving situation with me every Friday. When the piano reached the destination moving company, they emailed me at once."
"The piano is really nice. Nicely tuned, and the keyboard touching is also very nice. I got everything I wished for. Because I need to move it back to China, Mike also gave me many good suggestions, an official contract, and an invoice for custom declaration. He is really helpful! If possible, I will work with Mike again, but I am going back to China. But if anybody in U.S. who would like to buy a good piano, I highly recommend Mike at Picarzo Pianos."
- Ms. C.W. in Arlington, TX

1906 Steinway K Upright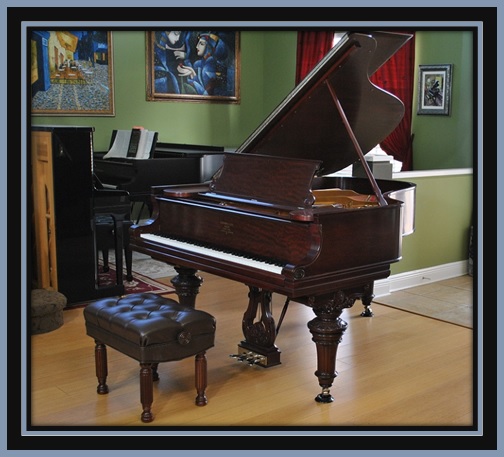 "Dear Mike, I wanted to thank you for your expert advice and guidance. The Steinway arrived and Tanja is "over the moon". After 2 years of searching, the perfect piano found its way to us, and it wouldn't have happened without you. It is a truly outstanding piece- beautiful in every way!"
"This was a big decision- your insight, empathy and integrity throughout the process is very much appreciated. We would be pleased to serve as a reference to any prospective customer- please just ask. Sincerely,"
- Mr. L.S. in Jupiter, FL

1906 Steinway Model A 6'2" Grand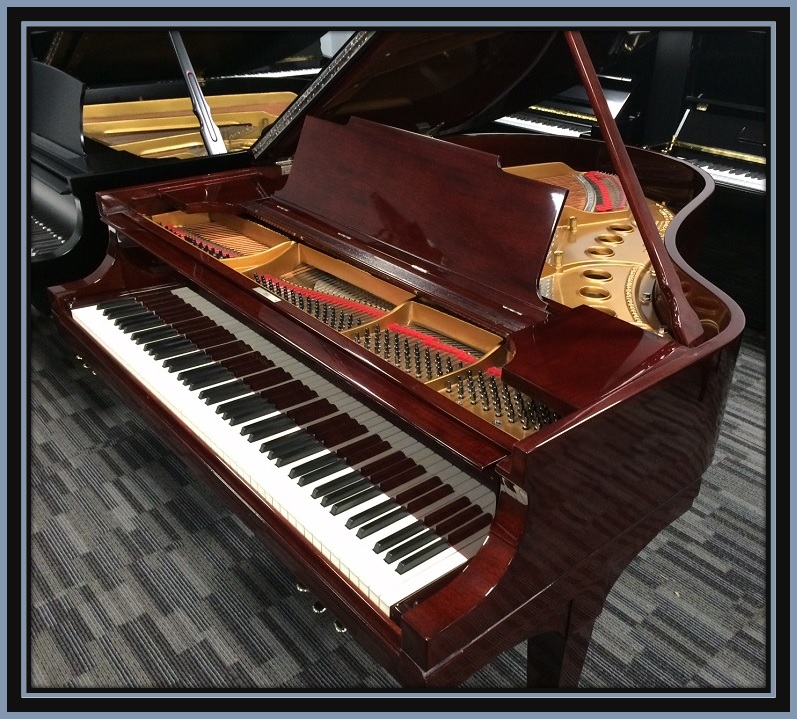 "Our search for a piano started when my wife retired from a forty year career as a dentist. I wanted to give her a beautiful Baby Grand Steinway as a retirement present. She played as a child and often said she would like to take it up again when she had the time. I knew nothing about pianos myself but I thought if I bought a new one I couldn't go wrong. I found, however, that the Steinway I wanted in the wood and finish I wanted would be over $80,000.00. Sticker shock caused me to think about whether a used piano would be a better alternative."
"I spent the next year reading everything I could about used pianos and asking questions. The result of my study lead me to believe that a properly restored golden age Steinway could be both a reasonably priced investment and a very rewarding piano for my wife to enjoy playing. Unfortunately, as I began to look at websites of piano dealers and talk to some of them, I often got the same feeling one gets at some used car dealers. It wasn't pleasant and it didn't inspire confidence. A typical experience would be that I would find a piano online that was advertised as "fully restored. Call for pricing info." I would call about it. Fully restored often meant little more than tuning, voicing, and refinishing the cabinet. It was hard to get precise information about anything. 'Just come in and try it! You're going to love it!' "
"Then one day I was on a piano forum website and, looking at the pianos for sale section, I stumbled upon a picture of exactly what I was looking for, a golden age (1920) Steinway M in highly polished red mahogany. It was beautiful and advertised as "fully restored." The ad also contained the price. Since the price was considerably less than the price of restored Steinway M pianos I had looked at, I was not enthusiastic that this deal was for real. But I clicked on the link anyway and arrived at Picarzo Pianos. I was pleasantly surprised to find a complete description of the restoration. Virtually everything, including the soundboard, had been replaced. So I emailed the owner, Mike. I expected the usual response; "It's a beauty! Come on in!" Instead I received a detailed response explaining the the provenance of the piano, who did the restoration, exactly when it was done, and an offer to show me the receipts for the restoration! Now I was excited but I still wanted my wife to look at the piano in person and have a registered piano technician inspect it. Since I could not travel to the showroom for three weeks, Mike offered to hold the piano for us without requiring a deposit. This was as far from high pressure sales as one can get!"
"Well, we looked at it. Our technician looked at it. We all loved it and we bought it! It was delivered a couple of days later and it came with a new piano bench. There was a manufacturing defect in the bench and we called Mike. He ordered us a new bench but it would take 10 days for delivery. Two days later Mike's wife arrived with a loaner bench for us! Our home is about an hour and a half from the showroom so we thought this was very good service after the sale. So now we have a beautiful, fully restored, warm sweet-sounding Steinway Baby Grand at one third of the price of a new one!"
- Mr. K.M. in University Park, FL

1920 Steinway Model M 5'7" Grand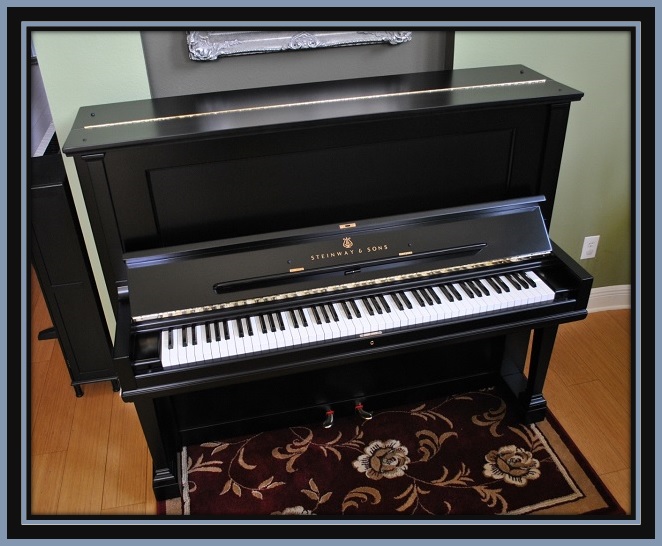 "Confidence and security. That is the sum of the buying experience in obtaining a superior instrument from Picarzo. Like many buyers I did my homework on what piano would suit my family the best. I decided the premium for a new piano was not justified. The Steinways in particular are a great product but there are too many unknowns with getting from a one-time seller. Their interest is to convert it to cash and move on."
"When I contacted Picarzo and inspected the various pianos, I confirmed that this seller was not looking for a quick sale. These pianos were hand picked, restored immaculately, and reserved for the right buyer. (The thought of a parent not just handing their kids over to anyone to babysit comes to mind.) Picarzo treats these pianos better than I say many a buyer ever would. If your seller does not love what he is parting with, then beware. After my personal inspection, I was given plenty of time to decide, made my decision, and have no regrets. The piano arrived on time and the delivery was performed by people who care to get it right. After a tuning 2 weeks later, the piano exudes outstanding symphonic qualities. My tuner for many years wanted to know where I got this new piano from as it was stellar. Thank you Picarzo."
- Mr. S.P. in Gulf Breeze, FL

1908 Steinway K Upright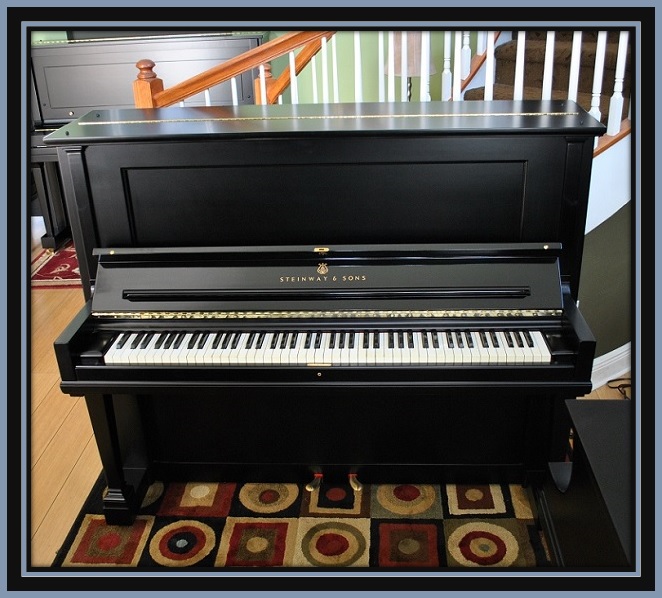 "I wanted to thank you for making this buying experience so easy. Your patience with me listening to your colleague play each Steinway you had was most helpful in making my choice. Irrespective of where buyers are located, a quick trip to Tampa can make all the difference in the world as you seek the voice of a piano that speaks to you."
"The piano movers you recommended were exceptional and the piano arrived in great condition. I was surprised that we could receive it just two days after I bought it."
"Again thanks for a wonderful experience."
[Update 2 months later] "Just a little update. Recently had a piano technician come by and he said the work on my piano and the level of restoration was exquisite. Thanks again."
- Mr. C.D. in Palm Coast, FL

1909 Steinway K Upright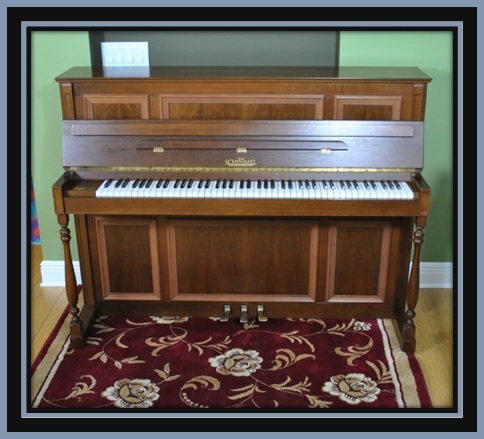 "I was looking for a new upright piano to replace my old, extremely beat-up, family heirloom A.B. Cameron. Having never bought a piano before, I went to several local shops to browse and see what I was in for from a price standpoint, and what kind of quality I could get for my budget. I made the mistake of letting a salesman talk me in to playing "the one I have in the back." The one in the back was a beautiful, brand-new $36,000 Schimmel. I was instantly in love, and determined to find a used model in my price range. After a few weeks of shopping I nearly gave up - even the used models that I could find were well over what I was budgeted for."
"Then I was lucky enough to stumble across Mike and Picarzo Pianos through an eBay listing nearly a month after I had decided to stop looking. The listing was fantastic - a 1976 Schimmel model 112 in beautiful condition, as shown by the many wonderful pictures, and the listing even included two different videos of the piano being played. The price listed was so reasonable that I was actually suspicious. After a few emails over the course of an hour or so, we exchanged phone numbers and Mike gave me a call - despite the fact that it was nearly 8 PM local time for him since I am on the West Coast AND the fact that he had been out to dinner with his wife at the time. He even apologized for the delay! He was tremendously friendly, and had great answers to all of my questions. When I expressed my concerns over the well-being of the piano due to the low price, Mike was very up front, explained that the mute rail was missing, making the middle practice pedal inoperative. He went on to explain that he had already tried to sell it at a higher price with no takers. Mike offered to provide me the name of several local piano technicians, and I ended up contacting one of them for an opinion on the state / quality of the piano. Mike was also extremely informative with regard to how the piano move would work. As a newbie to the piano buying procedure, I was obviously concerned, since the piano would be traveling the length of the entire United States to get from Tampa to my home in San Jose. The next day I called the technician, who gave a glowing review, and told me I was getting a fantastic piano. Within 12 hours of first contacting Mike, I had learned everything I needed to know about the piano, had a technician inspect it, and had worked out a contract to purchase the piano."
"Mike even took care of the entire move process, working with Walters Piano Moving. He followed up with me routinely, sometimes multiple times a week, to keep me appraised of where the piano was and when they expected to get it to me. We seemed to be just on the wrong end of the timing on the move the entire way, with the delivery truck having just left before my piano arrived at every stop. Mike was apologetic, but did a fantastic job of reassuring me that the piano was in good hands, on its way to me, and that everything was going well. Despite my curiosity (and no small worry) at every stage, Mike's updates kept me in good spirits, and even kept me from having to bother calling the moving company myself. After a long several weeks, a local piano mover contacted me to arrange a delivery."
"The piano was finally here, and it was gorgeous! Not only that, even after a long move across the entire country it sounded phenomenal, even before being tuned! After a few weeks of sitting in my front room getting acclimated, I had the piano tuned and I am absolutely in love with it. I am playing much more than I ever have, and I can honestly say that it may be the very best purchase I have made in my entire life. I would happily and glowingly recommend Mike and Picarzo Pianos to anyone and everyone looking to purchase a piano."
"I cannot thank you enough for the wonderful experience, the tremendous piano, and I don't know if I can tell you what it means to me. Know that I will happily point anyone I know looking for a piano your way in the future."
- Mr. V.C. in San Jose, CA

1976 Schimmel 112 Upright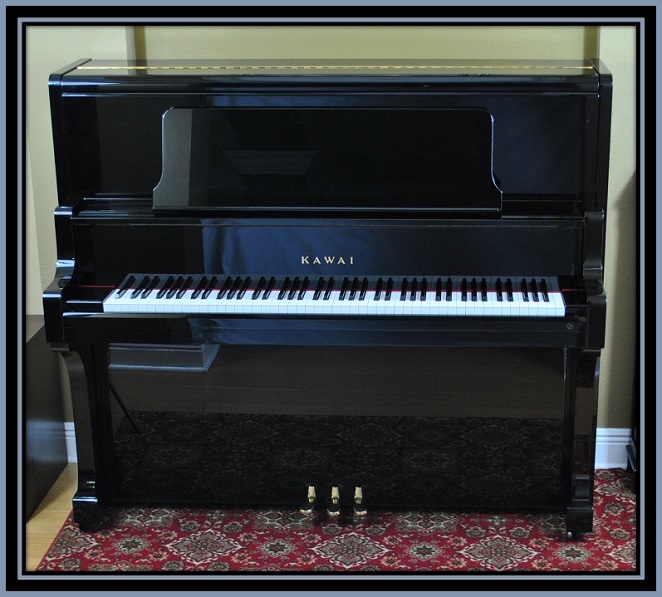 "We had an antique Ellwood upright player piano that we had bought years earlier. This piano was supposed to serve as both entertainment for my wife and me, and a piano for my daughter to begin lessons. Recently, my daughter started telling us that our old piano did not hold a tuning. My daughter's interest in playing the piano has been increasing lately, and we thought it best to nurture that interest and start looking for another piano that would better serve her growth. We wondered where to begin, so we visited a number of local piano dealers, but couldn't find an upright piano that was aesthetically pleasing and had that baby grand sound. We did almost buy a grand piano, but the thought of spending that much money and losing our formal dining room had us still looking for an upright piano."
"Our best decision in this process was to visit Picarzo Pianos and Michael Pratt. He was not only extremely knowledgeable and had a diverse selection of pianos, but you could see in him the passion he has for the pianos he sells. We decided on the Kawai BL-71 as my daughter fell in love with the tone and feel almost immediately. I can say after working with Michael that our purchase was the easiest buying experience we have ever had, and the delivery process was flawless. The piano movers arrived on time, removed our older piano, and replaced with the Kawai in less than 45 minutes. Michael followed up on our purchase after the delivery, wanting to make sure everything went well."
"I would definitely recommend Picarzo Pianos, and I already have. Our daughter's piano instructor said this piano was an excellent purchase after having played it this week. She said the tonal quality was superior to other upright pianos. She wanted one of the two business cards Michael gave us and she already has a prospective student in need of a quality upright piano."
"Thank you Michael, we will be back to purchase from you again."
- Mr. D.S. in St. Petersburg, FL

1978 Kawai BL71 Upright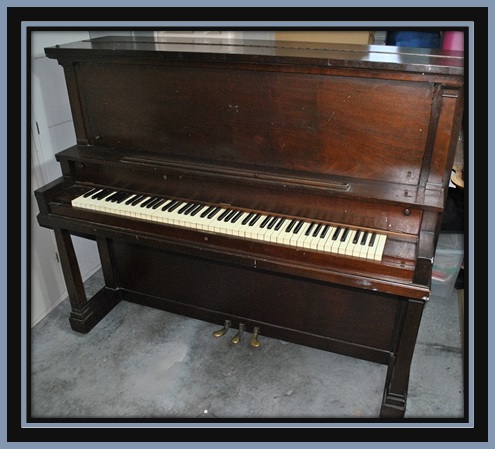 "I had been thinking about buying a piano for a while but hadn't done much research. My parents had purchased a restored 1915 Mason & Hamlin grand several years ago and I had always admired their piano. Knowing that I didn't have space for a grand piano in our living room without losing the couch, I started to look for upright. After playing some of the newer uprights and doing further research, I narrowed the search to an upright piano built between 1910 – 1930 and preferably Mason & Hamlin or Steinway."
"I came across Mike's listing for a 1910 Mason & Hamlin upright on Ebay, I sent him an email which was the start of many correspondences. Since the piano was over 100 years old and had not been restored, Mike recommended having a local technician come and look at it. After getting the technician's report and Mike's answers to my many questions, I decided to buy it (this all transpired over several weeks). Then Mike got in a 1917 Mason & Hamlin upright several days after I purchased the 1910 M&H. Since mine had not shipped yet, he allowed me to choose between the two and created a very informative 5 minute detailed video of the similarities/differences between the 2 uprights. I sent the video to everyone here that would have an opinion along with a local recommended piano technician. My local technician recommended that I switch pianos since I wanted to be able to play it for several years before I restored it. I spoke further with Mike and he came to the same conclusion and recommended that I switch. And I did."
"I used the piano movers that Mike recommended and the piano arrived safely within a couple of days. Before it was shipped, Mike spent several hours cleaning it and reported back everything that he found that needed to be fixed. His input was very helpful. My piano technician arrived several weeks after it had settled into our house and was able to easily fix the broken hammers and corrected a couple of other issues. And 3 hours later, it was tuned and ready to go! I am so very happy with my piano. It is a perfect match and such a treasure."
"I really appreciated Mike's honesty and his patience to my many questions. And even though I was purchasing on the lower end of the cost spectrum, I felt like I was treated as a valued customer purchasing at a much higher price point. I was certainly concerned with buying a piano over the internet especially an antique but the process and end result could not have been any better. I highly recommend buying from Mike!"
- Ms. K.K. in Columbia, SC

1917 Mason & Hamlin D Upright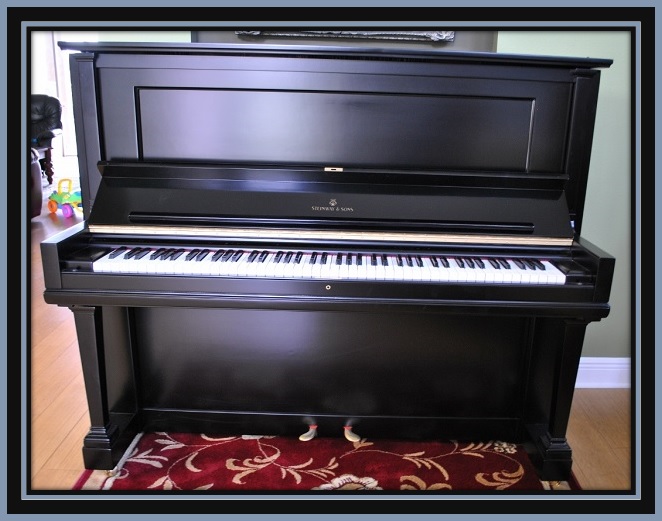 "I bought a restored Steinway K-52 from Mike in August. I live in California, so I asked a piano technician to take a look at it. After he confirmed everything looked good, I sent the payment to Mike and arranged delivery through Pro Piano Movers. Everything went smoothly and the piano was delivered as expected, although a bit out of tune from the moving. After tuning, it plays and looks great. I had a great experience working with Mike and recommend him if you are interested in buying a piano yourself."
- Mr. S.P. in Mountain View, CA

1917 Steinway K Upright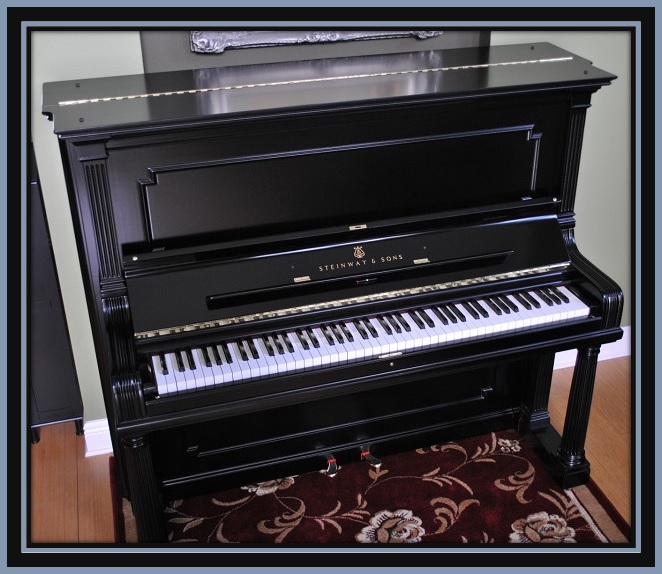 "I am very happy with my purchase of a 1900 Steinway Model I from Mike. This is a beautiful vintage piano that was completely restored and complements my California Bungalow that was built in 1914. The Steinway is a classic black upright with an amazing new matte finish and it sounds beautiful in my home."
"While skeptical of making a purchase like this over the web, Mike provided detailed information on the piano including the restoration, quality of the parts used and the contact information for the vendors who provided restoration services. He is very knowledgeable about pianos and takes pride in those he restores. The transaction was smooth and the piano delivered in perfect condition as described by Mike using excellent movers that he recommended."
"I would recommend working with Mike on purchasing a piano as he gained my trust with his knowledge and enthusiasm, follow through on all communications and detailed responses to my questions. I am very pleased with the purchase and the interaction with Mike. Best regards,"
- Mr. M.A. in Pleasant Ridge, MI

1900 Steinway I Upright