Picarzo Pianos In The News
A very nice article written by Kevin Weiss for the Laker/Lutz News weekly newspaper published on January 4, 2017. I'm indebted to Kevin for taking the time to write such an in-depth article. Thank you!
- Mike P.
Link to original article: http://lakerlutznews.com/lln/?p=42240
Piano Enthusiast Opens Lutz Showroom
By Kevin Weiss, The Laker/Lutz News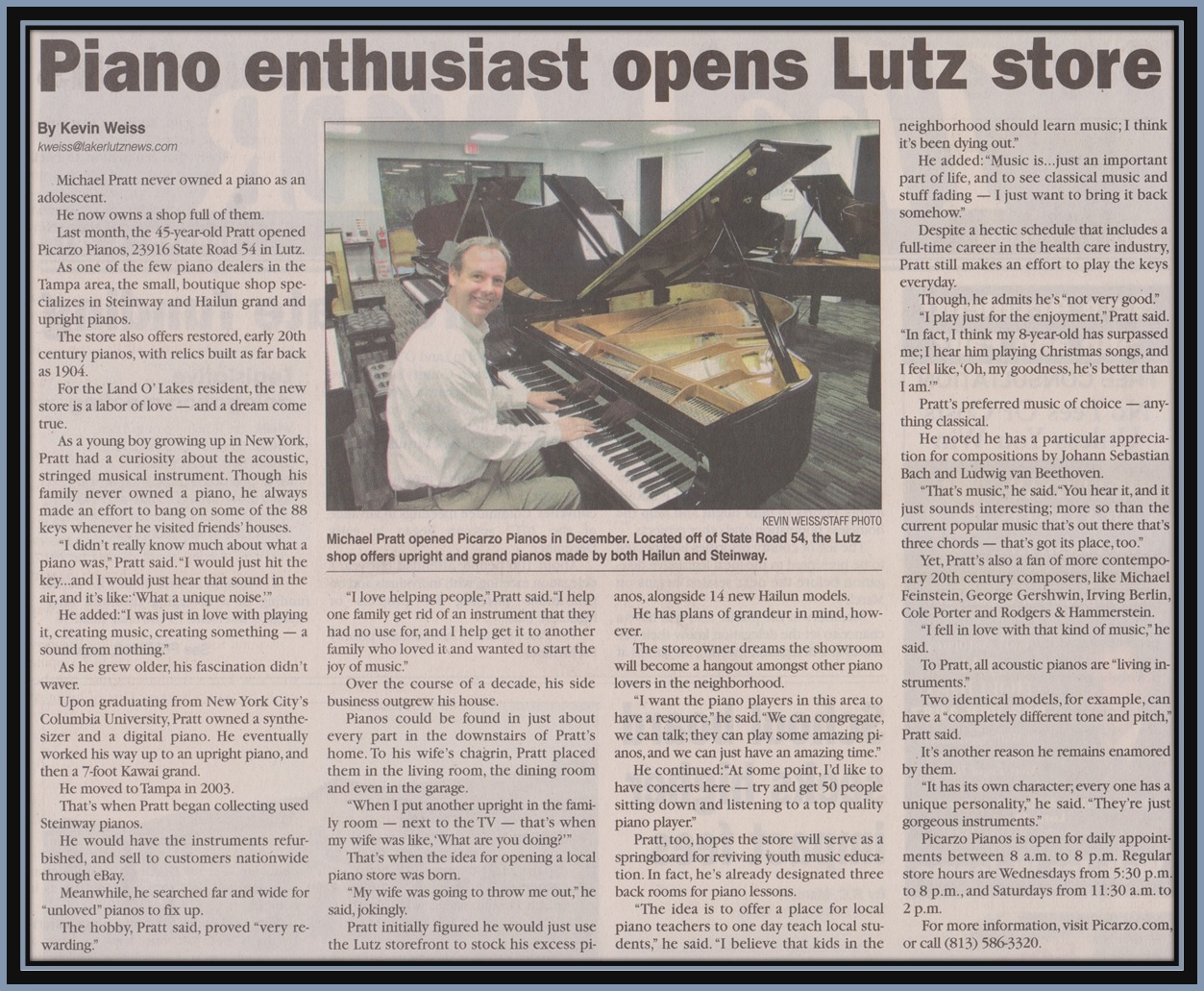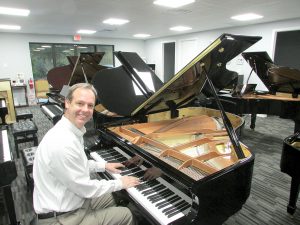 Michael Pratt never owned a piano as an adolescent.
He now owns a showroom full of them.
Last month, the 45-year-old Pratt opened Picarzo Pianos at 23916 State Road 54 in Lutz.
As one of the few piano dealers in the Tampa area, the small, boutique showroom specializes in Steinway and Hailun grand and upright pianos.
The showroom also offers restored, early 20th century pianos, with relics built as far back as 1904.
For the Land O' Lakes resident, the new store is a labor of love — and a dream come true.
As a young boy growing up in New York, Pratt had a curiosity about the acoustic, stringed musical instrument. Though his family never owned a piano, he always made an effort to bang on some of the 88 keys whenever he visited friends' houses.
"I didn't really know much about what a piano was," Pratt said. "I would just hit the key…and I would just listen to the sound in the air, and ponder: 'What a unique noise.'"
He added: "I was just in love with playing a piano, creating music, creating something — a sound from nothing."
As he grew older, his fascination didn't waver.
Upon graduating from New York City's Columbia University, Pratt owned a synthesizer and then a digital piano. He eventually worked his way up to an upright piano, and then a 7-foot Kawai grand.
He moved to Tampa in 2003.
That's when Pratt began collecting used Steinway pianos.
He would have the instruments restored, and sell to customers nationwide through the web.
Meanwhile, he searched far and wide for "unloved" pianos to fix up.
The hobby, Pratt said, proved "very rewarding."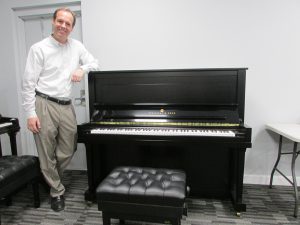 "I love helping people," Pratt said. "I help one family remove an instrument that they had no use for, and I help get it to another family who love it and want to start the joy of music in their home."
Over the course of a decade, his side business outgrew his house.
Pianos could be found in just about every part of the downstairs of Pratt's home. To his wife's growing chagrin, Pratt placed them in the living room, the dining room and even in the garage.
"At the point when I placed another upright in the family room — next to the TV — that's when my wife was like, 'What are you doing?'"
That's when the idea for opening a local piano store was born.
"My wife was going to throw me out," he said, jokingly.
Pratt initially figured he would just use the Lutz storefront to stock his excess pianos, alongside 14 new Hailun models.
He has plans of grandeur in mind, however.
The storeowner dreams the showroom will become a hangout amongst other piano lovers in the neighborhood.
"I would like the piano players in this area to have a resource," he said. "We can congregate, we can talk, they can play some amazing pianos, and we can just have an amazing time."
He continued: "At some point, I'd like to have concerts here — get 50 people sitting and listening to a top quality local piano player."
Pratt, too, hopes the store will serve as a springboard for reviving youth music education. In fact, he's already designated three back rooms for piano lessons.
"The idea is to offer a place for local piano teachers to teach local students," he said. "I believe that kids in the neighborhood should learn music, which has been slowly dying."
He added: "Music is…just an important part of life, and to see classical music fading — I just want to do my part to keep it alive."
Despite a hectic schedule that includes a full-time career in the health care industry, Pratt still makes an effort to play everyday.
Though, he admits he's "not very good."
"I play just for the enjoyment," Pratt said. "In fact, I think my 8-year-old has surpassed me; I hear him playing Christmas songs, and I think, 'Oh, my goodness, he's better than I am already.'"
"Pratt's preferred music of choice — anything classical.
He noted he has a particular appreciation for compositions by Johann Sebastian Bach and Ludwig van Beethoven.
"That's music," he said. "You hear it, and it sounds interesting; more so than the current popular music consisting of three chords — although that music has its place, too."
Yet, Pratt's also a fan of more contemporary 20th century composers, like Michael Feinstein, George Gershwin, Irving Berlin, Cole Porter and Rodgers & Hammerstein.
"I fell in love with that kind of music as well," he said.
To Pratt, all acoustic pianos are "living instruments."
Two identical models, for example, can have a "completely different tone," Pratt said.
It's another reason he remains enamored by them.
"Each piano has its own character; every piano has a unique personality," he said. "They're just gorgeous instruments."
Picarzo Pianos is open for daily appointments between 8 a.m. to 8 p.m. Regular store hours are Wednesdays from 5:30 p.m. to 8 p.m., and Saturdays from 11:30 a.m. to 2 p.m.
For more information, visit www.picarzo.com, or call (813) 586-3320.
Published January 4, 2017 by the Laker/Lutz News
Link to original article: http://lakerlutznews.com/lln/?p=42240